ADD LIFE
For Autumn & Spring Feed For Lawns
WINTER FEED is a cold climate fertiliser for lawns. It contains high Nitrogen content for crops to maintain a healthy foliage even during winters. It's a high nutrient package derived from seaweed, humid acid and molasses and is enriched with essential vitamins.
CONTAINS
WINTER FEED contains Seaweed Extract, Humic Acids, Molasses, Bio-stimulants and trace elements including Vitamins B-1, B-12.
FEATURES & BENEFITS
Improves stress tolerance caused due to cold-climate
Increases soil fertility for better root growth
Packed with readily accessible N for foliage growth
Enhanced with bio-stimulants and essential Vitamins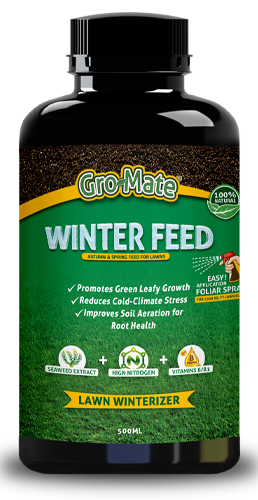 INSTRUCTIONS FOR USE
Shake the bottle well before use. This feed should be mixed with clean water in a plastic container and mixed thoroughly before applying to the plants.
DOSAGE
Determine the size of the lawn (length x width) before applying. Dilute the Winter Feed with clear water, and apply as a foliar spray evenly on the lawn, as per recommended dosage below.
| Product Qty | Water Dilution | LAWN SIZE |
| --- | --- | --- |
| 250ml | 15L | 700 sq ft |
| 500ml | 25L | 1250 sq ft |
| 1L | 50L | 2500 sq ft |
Apply every 4 weeks on established lawns where clippings are left. If clippings are not left you may need to apply heavier or more often to replace the lost nutrients that come from the clippings. Do not apply when the grass is going dormant or is not growing.
Do not water right after the application. Wait 6-8 hours or until the next day.
AFTERCARE
WINTER FEED is compatible with all natural fertilisers, pesticides and fungicides. Once opened, store in a cool, dry place. Keep away from children and pets. Do not inhale or ingest.
Storage & Packaging
Shelf life : Best before 24 months, Stored in room temperature.
Packaging :500ml, 1 Ltr., Bulk order on request
Legal Disclaimer Description : For gardening and agricultural use only. Not for human intake.