GROWTHMAX
For Trees, Lawn, Flowers, Vegetables & Fruits
GROWTHMAX is an all natural growth elixir suitable for use on all flowering plants, trees, shrubs and edibles. It is a 360 degree plant food recipe which provides NPK and every essential nutrient needed by the plant to grow healthier, stronger and ultimately increase output.
CONTAINS
GROWTHMAX contains Nitrogen, Phosphorus, Potassium, Calcium, Magnesium, Sulphate, Iron, Manganese, Zinc, Copper, Silica and consortium of beneficial bacterias.
FEATURES & BENEFITS
Maximizes growth during vegetative state
Induces better flowering and fruiting
Increases soil fertility and aeration in the root zone
Improves stress tolerance in adverse conditions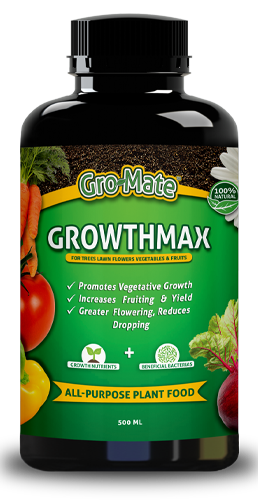 INSTRUCTIONS FOR USE
Shake the bottle well before use. This feed should be mixed with clean water in a plastic container and mixed thoroughly before applying to the plants
DOSAGE
Early growth, seedlings onwards - Mix 5ml (1 tsp) of GrowthMax to each litre of water. Apply to the plants once every 2 weeks.
FLOWERING AND FRUITING
When fruits begin to appear - Mix 10ml (2 tsp) of GrowthMax to each litre of water. Apply to plants once every 2 weeks.
AFTERCARE
GROWTHMAX is compatible with all natural fertilisers. Once opened, store in a cool, dry place. Keep away from children and pets. Do not inhale or ingest.
Storage & Packaging
Shelf life : Best before 24 months, Stored in room temperature.
Packaging :500ml, 1 Ltr., Bulk order on request
Legal Disclaimer Description : For gardening and agricultural use only. Not for human intake.